Mike effectively established GIAMPOLINI COURTNEY, the masonry restoration division of Giampolini & Co., in 2000, leveraging a reputation earned in managing over a thousand Bay Area and Western US projects as regional director of one of the nation's largest restoration/waterproofing companies. He has 46 years of hands-on experience gained in completing over $400M + in specialty contract work in both historic restoration and new construction. He is adept at balancing multiple design and engineering consultants, dozens of trades and the logistics of city center projects.
Pete Nielsen Superintendent
Pete brings 35 years of field experience to our team and your project. His talent, ingenuity, dedication, passion and integrity are unsurpassed in the industry. Pete embraces the challenge of coordinating and executing the field work, typically on tall building facade walls, high above busy and densely populated city streets. He loves the work he oversees and the workers that perform it. He also enjoys working closely with our customers - we know the feeling is mutual - we hear that all the time. He visits almost every project daily assuring we are delivering the highest quality work product, safely and efficiently. He has built one of the best crews in the business attracting the most talented craftsmen there are.
Jeff Mayo
Chief Estimator and Project Manager
Jeff joined our firm in 2002 shortly after graduating University of California Berkeley with a degree in Architecture. He was prepared to go to work in architecture and spend the requisite time on a drafting board and buried in CADD - ready to work hard and build a reputation - to fulfill the dream of becoming a famous architect. At the same time Courtney was looking for a new team member to fill out his restoration construction management team. He was looking for someone with architecture and engineering education and/or experience. An introduction was arranged by a mutual acquaintance. Courtney and Mayo hopped in a car and took a ride to tour of some current COURTNEY projects. At the time the firm was very busy with some major and interesting projects. Mayo was impressed. He could see himself in the middle of all that. He pondered a career path change - Courtney offered him the job - and he signed on. Like others before him with a background in architecture he was a quick study and has developed into one of the most knowledgable and talented people in the business. His resume is now substantial and we know you will enjoy working with one of the brightest in the business.
Brad Blemker Operations / Project Manager
Brad graduated from California Polytechnic State University in 1987 with a BS Construction Management degree. He and Courtney began working together in 1989. Brad has developed a deep knowledge and substantial experience in all aspects of specialty masonry preservation and general construction. He is hard working, organized and detail oriented and excels at balancing all the moving parts in managing our self performed work, and that of involved subcontractor partners, on complex and demanding projects. Owners, and their representatives and consultants find Brad to be very solid, highly contributing, and a reliable team member representative for our firm handling complex project scope and time-lines. The efforts he puts forth, coupled with creative thinking and colaberation with team members, achieves excellent project outcomes and meeting of commitments in stride. His fun loving nature and love of people contribute to making weekly project meetings something to look forward to.
Josue Guzman Estimator, Project Manager
Josue spent his summers while going to college working in the field on various GIAMPOLINI COURTNEY projects. His father, Jose Guzman, is a highly talented career preservation craftsman and a key foreman for the firm. Essentially Josue grew up in the business. Josue studied at Bob Jones University earning a BS in Criminal Justice with a minor in Psychology. Upon graduation Josue contemplated a cross-road and career decision. He really enjoyed working on the many major preservation projects during college summers including St Dominic's Church and the Monadock Building Restoration. He had gained some valuable trade experience and hands-on skills working closely with his father and the crew. He decided his first choice would be to explore a career in management in the challenging preservation construction industry and Courtney was excited to offer him that opportunity. Josue has been with us now 6 years (including summers while in college), and has leveraged his time and experience gained in the field to give him a solid knowledge base to draw from as he represents us in project management and estimating roles at the firm.
Michael Eddy PE Project Engineer
Michael graduated from California State University, Chico, in 2013 with a BS Civil Engineering Degree. He was recruited out of college by Babson, Barbee & Gibson, a Land Development Engineering firm. He spent 4 years at that firm earning experience that would qualify him to take California Professional Engineer (PE) licensing exams. Within days of earning his PE he called his uncle, Mike Courtney, looking for a new opportunity. Michael is youngest son of Courtney's sister Cathy. He came on board at GIAMPOLINI COURTNEY in early 2017. The Courtney family now has a fourth generation descendant working in the building restoration and preservation industry. Courtney's grandfather Vern, Michael Great Grandfather, was the first having spent his entire working career restoring buildings in the mid 20th Century. Michael is a quick study. His smarts, outgoing personality, and eagerness to learn about the business are working in his favor - He is on a fast-track earning valuable experience and making a significant contribution as a project team member. There is no doubt Michael will become a significant player in the masonry and preservation business in the Bay Area following in the footsteps of his great grandfather, grandfather and uncle.
Shawn is one of the most talented people you will ever meet. His abilities as stone carver are unsurpassed. Early in his career he apprenticed as a stone carver in Italy. That start in art and sculpture has morphed into a 25 year career in preservation construction. We are so fortunate to have him on our team. Many of the stone restoration projects and results you see on this site are his handiwork. His unselfish sharing of his knowledge in training others will assure the nearly lost art of old world stone craftsmanship endures.
OUR AMAZING JOB-SITE SUPERVISORS - FORMEN: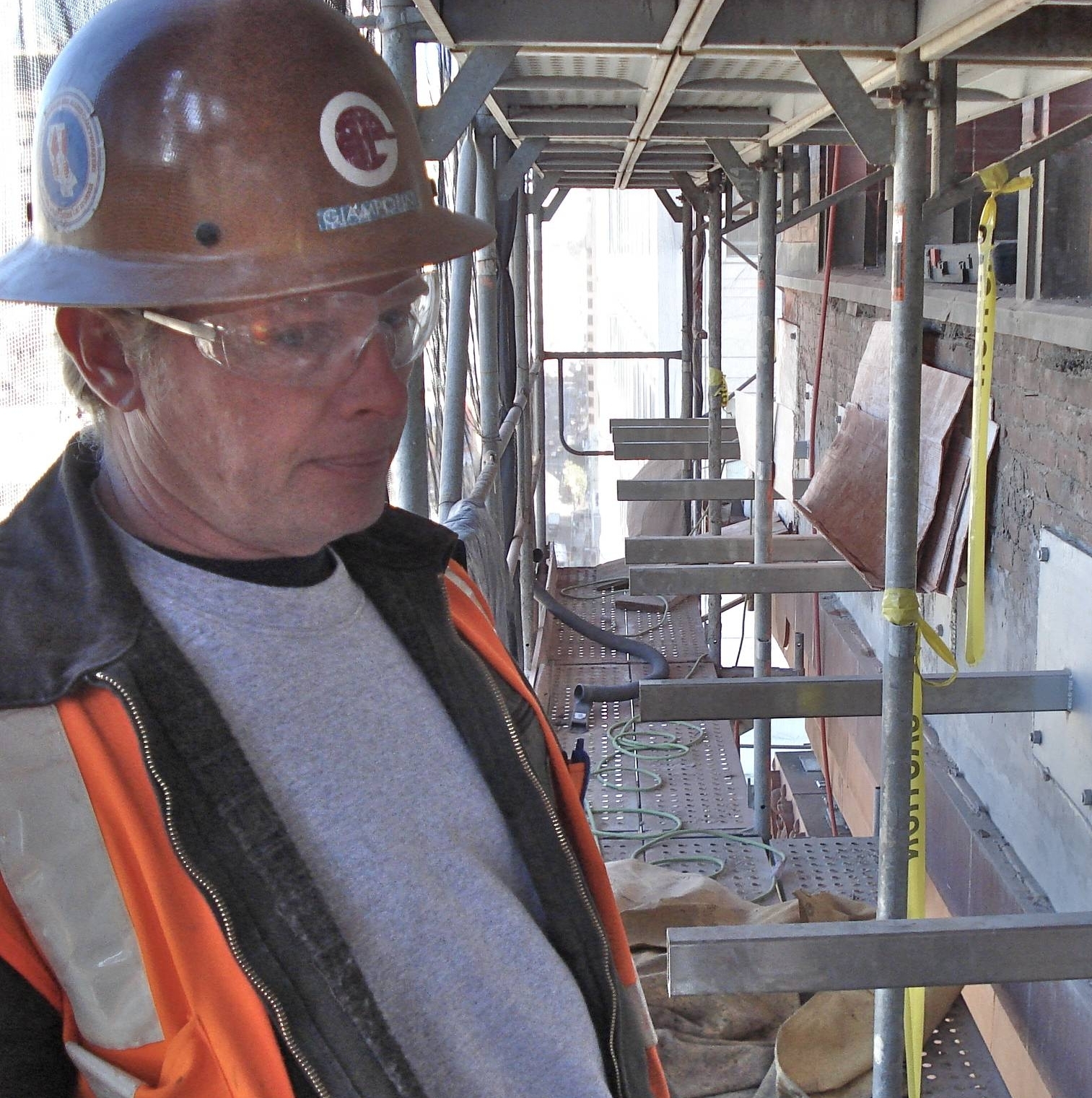 A FEW FROM OUR AMAZING CREW: